Our application is now available for 2024-25! Fill out an application today, and reach out to us with any questions. 
 
Welcome to Town!
Town is a nurturing environment purposefully designed to guide children toward being their best—curious, challenged, insightful—selves.
We are committed to a personal, equitable, and transparent approach. This is a process of mutual discovery: We'll be getting to know you and your child, as you familiarize yourself with our program and community. Please don't hesitate to reach out to our admissions office at any time with questions about the application process or our school programs. If you're curious about a particular program, aspect of the curriculum, or the like, we are happy to connect you with educators in our community. 
For applicant families, our Important Dates & Events page has a timeline of dates and deadlines, as well as a list of in-person and virtual ways to get to know our community this fall. If you'd like to receive our monthly Admissions newsletters, complete an Inquiry Form any time. 
I looking forward to getting to know you and your child! 
Warmly,
Chloë Scott-Giry
Director of Admissions and Enrollment
Discover the steps to apply to Town today.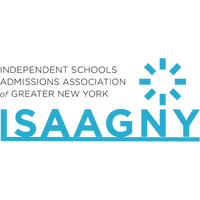 The Town School is a proud member of the Independent Schools Admissions Association of Greater New York (ISAAGNY). Founded in 1965, ISAAGNY aims to ensure orderly, professional, and equitable admissions processes at member schools: we do so by observing a shared admissions timeline, engaging in professional development to hone our collective craft, exchanging resources and best practices, and more. The resulting spirit of cooperation serves schools, families, and nearly 30,000 students across greater New York.